Styria. The green heart of Austria.
A red heart is often a symbol of love between two people, but if that love originates in Styria, the colour of the heart is often green. That is because the province of Styria is nicknamed "The Green Heart of Austria". Word has meanwhile spread far beyond the provincial borders that Styria is a wonderful place, especially for hikers, bikers, climbers and anyone who is looking for a bit of relaxing peace and quiet.
Upon closer inspection, it becomes evident that the Thermal Region and the Volcano Country in the east are also the heartland of the fabulous culinary traditions of Styria. In the region surrounding legendary Riegersburg Castle things are at their chocolatey best: Zotter's Choco Shop Theatre is a place to experience the best in fine chocolate, but there are also many other culinary enterprises where you can have a look behind the scenes.
The pleasures of exploring Riegersburg's environs
Two circular hiking trails have their point of departure in the town centre of Riegersburg. The eastern route, the Zotter Loop, is about 12km long and the western one, the Gölles Loop, is about 10 km. Together they make it possible to explore the entire area around Riegersburg on foot.
This makes for pleasurable hiking of a kind you may have never have experienced before, with numerous nature trails, interesting sites and surprises for young and old.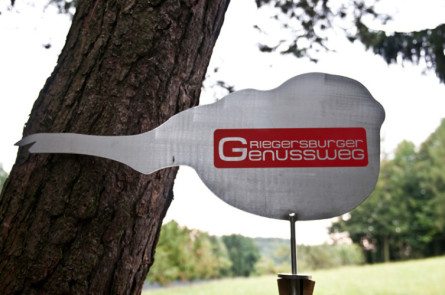 The Genusshotel Riegersburg
Comfort and ease, modern architectural accents, and all of it in beautiful, natural surroundings: that's what Genusshotel Riegersburg has to offer. Each of the 44 rooms affords a breathtaking view of the historic castle, which like many of the area's numerous culinary enterprises, is only a few minutes away by car.